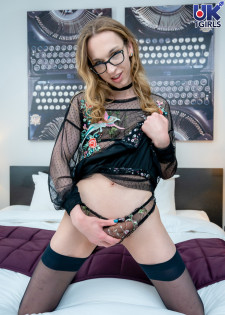 What's a hot, sexy and cute trans girl to do when she's left in a hotel room alone? Emily's huge cock looks outsized for her body, and it only increases in girth and length as she plugs her smooth, puckered asshole for some internal anal stimulation. As the heavy steel plug fills her inside, she starts to work her cock up before reaching for her trusty fleshlight and fucking it to climax. An awesome scene - with one awesome model.
23rd Aug 2022
17:14 HD Video
& 121 Photos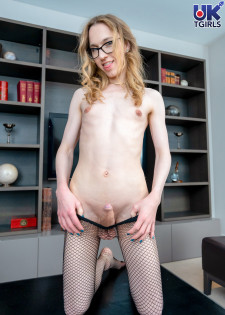 Hot on the heels of her XBiz Best Trans Clip Artist win in Miami last month, Emily returns to Kalin's studio to give us a new scene, and she seems to have a new found confidence which has materialized in a very naughty girl, who loves to really show off. An exhibitionist at the finest! Watch Emily take on a long 'snake-like' dildo as she slowly insets the tapered end into her waiting hole which gradually swallows more of the dildo, as she opens up - feeling the intensity of ever deepening and widening penetration. Her large cock is erect and her big balls are full as this hot German girl rides that snaking dildo.
9th Aug 2022
19:38 HD Video
& 121 Photos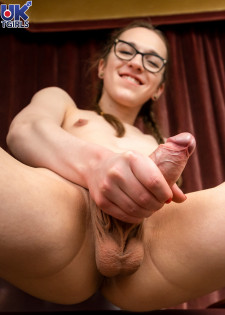 It may be past christmas time but the rumor is still around, that Emily Adaire has been a naughty girl! At least Santa didn't bring her the presents she expected, but she just got a candy stick - that isn't even real candy, but glass! That can't be right, so she decides to give the north pole a call to complain. After finally getting the elves to let her talk to the manager, Santa Claus, her assumption is confirmed: Apparently she hasn't been nice enough in the past year and was far too naughty! Annoyed she hangs up the phone and takes a closer look at her disappointing christmas present. Then she realizes, that the cute glass stick might be good for something else, than just serve as decoration. If people say she's been too naughty, she might as well get really naughty on christmas as well! Horny as she is, she slowly takes off her christmas outfit and rips her white fishnet tights for better access, before she start fucking herself with he candystick. With it's texture it is perfect for some intense anal pleasure! It doesn't take long, until she can't hold back anymore and cums - that's a present worth getting! Belated Merry Christmas to you all!
27th Jan 2022
17:05 HD Video
& 107 Photos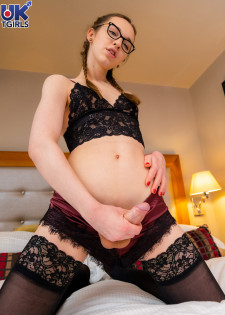 Another lovely day in the UK for german tourist Emily Adaire! This evening she spent her time alone in her hotel room, dressed up in some cozy, silky lingerie. She also has a nice new toy, that is waiting to explore the depth of her asshole and she's wondering, how far she can take it. Just the thought of that makes her so horny, that the bulge in her panties grows and grows, before she takes them off and frees her big cock. First she licks and sucks her new, extra-long silicone toy and dreams about having such a big cock in her mouth. After that, she slowly pushes the long, wobbly toy in her ass - trying out, how deep it can go. She's so greedy, but her ass is just too tight to take all of it - but nevertheless she just fucks herself with it. Going deeper and deeper, she's reaching an almost unbearable height of pleasure and dreams about, how it must feel, to be all filled up once she's able to take the whole length...
13th Jan 2022
16:38 HD Video
& 109 Photos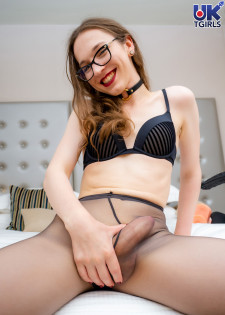 Cutie Emily decked out in a nice dress and horny as hell. She is are ready to play and have fun with her ass on the bed. Soon her dress and lingerie comes off and there she is having fun getting her ass penetrated by the fuck machine!
14th Sep 2021
17:28 HD Video
& 113 Photos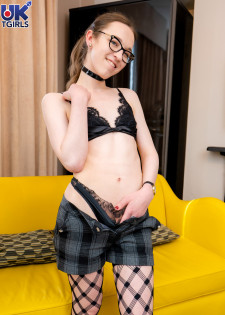 New cummer Emily Adaire is pretty, slim and sexy. She's may look shy at the start, but once this amateur hottie starts heating up nothing will stop her until her tight ass cock gets satisfied!
31st Aug 2021
17:38 HD Video
& 103 Photos